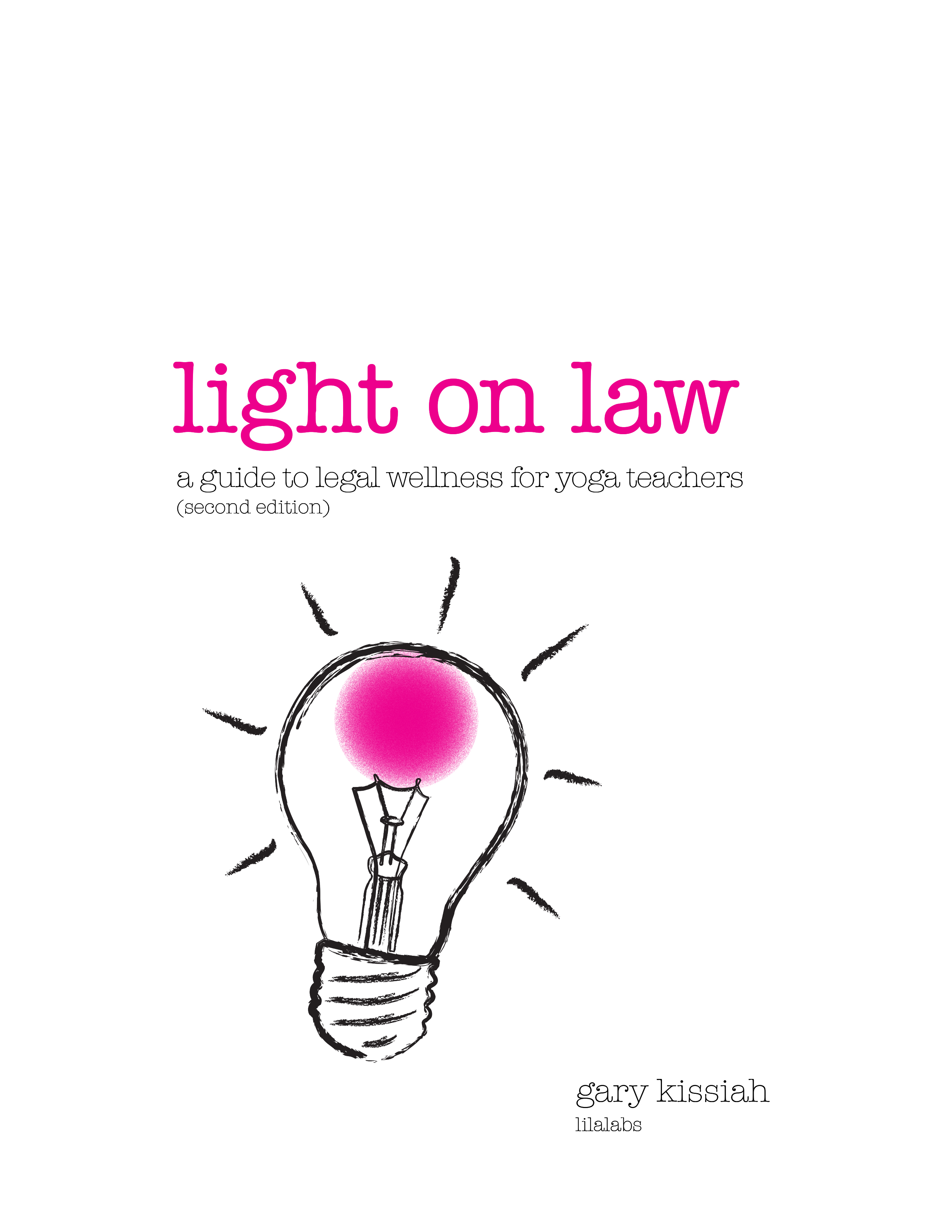 Light on Law for Yoga Teachers (Second Edition!)
Light on Law for Yoga Teachers is just for yoga and wellness teachers. It will empower you to meet your legal obligations and to protect yourself from legal trouble.
Here are just a sample of the many questions that I discuss in the book:
How do I start my yoga business? How do I protect myself from liability for injury? How do I set up a yoga practice in my home? How can I safely hold yoga classes in the park and on retreats? Does my insurance policy protect everything that I do? Can I negotiate my teaching agreements with the studios  and what should I really care about? Am I an independent contractor or an employee? What are my tax obligations? How can I trademark my brand? What do I need to know for my website?
The book is a beautiful, full color  200 page PDF which is readable on all computers, iPads and iPhones.
It includes 23 legal forms written just for yoga teachers.
[column1_2]
Examples of the topics are:
[list type="arrow2″]
Starting and Running Your Business
Key Legal Agreements
Negotiating Your Teaching Agreement
Independent Contractors and Employees
Protecting Yourself From Liability
Yoga Outside the Studio: Park, Home and Retreats
Legal Entities
Selling Products From Websites
Trademarks and Branding
Protecting Your Content
Websites and Social Media
Corporate Yoga
Tax Savings for Independent Contractors
Over 23  Model Form Agreements
[/list]
[/column1_2]
[column1_2_last]
Sample the book
[button_medium bg="669933″ color="FFFFFF" href="http://www.garykissiah.com/wp-content/uploads/books/LOLTeachersSample.pdf"] Click to download sample[/button_medium]
Purchase the book

[/column1_2_last]
[divider]
If you would like to purchase the book from Amazon for your Kindle, please click here: