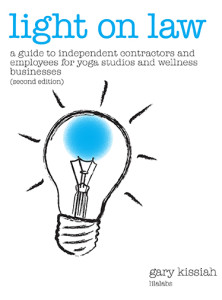 Light on Law-Independent Contractors and Employees
The IRS and state taxing agencies are auditing yoga studios and wellness businesses over the use of independent contractors. New York and California are targeting specifically the yoga community. If you are audited and you have misclassified your teachers as independent contractors, you may be liable for heavy back taxes, fees and penalties. Some studios have been put out of business.
 Independent Contractors
The burden is on you to prove that your teachers and other workers are independent contractors. Many states view the use of independent contractors as abusive.
Do you know the difference between and independent contractor and an employee and have you properly classified your teachers and other workers? Do you know the federal and state laws that determine true independent contractors? Have you changed your business practices to follow these laws and are these documented in a professional agreement? Do you have a state of the art independent contractor agreement? Are you in the strongest position to "make your case" if you are audited?
Converting Independent Contractors to Employees
Many studios are converting their independent contractors into employees because they no longer wish to face the risk of an audit. This book contains a new chapter that explains how to manage the conversion process. It contains a 24 item checklist and extensive resources.
Employees
There are over 180 federal laws that regulate employees and every state has its own system of laws. Do you know the laws that govern the interviewing, hiring, managing and termination process? Are you using best practices for hiring and firing employees? Are you using professional employment agreements? Do you know how to convert your teachers from independent contractors to employees if you chose to do so?
This is a full color, 200 page PDF book. It includes 10 legal agreements (including model agreements for independent contractors and employees) and many other resources.
The list price of the book is $29.95. It is being offered for $9.95 through a Yoga Alliance sponsorship.
Here is the table of contents from Light on Law for Independent Contractors and Employees:
1. On The Horns of the Dilemma
The Standard Business Model
The Use of Independent Contractors May Be Abusive
IRS and State Responses to Independent Contractor Abuse
The Employment Model-The Other Horn of the Dilemma
Make an Informed Decision on Your Business Model
2. The Federal Law of Independent Contractors
Introduction
The Federal Response to the Misclassification of Independent Contractors
The Common Law Test for Independent Contractors: Its All About Control
The IRS 20 Factor Test for Classification of Workers
The IRS Three Limbed Test
What Is a Studio's Liability Under Federal Law for Misclassification?
IRS Relief From Tax Liability For Misclassification-Section 530
The IRS Voluntary Classification Settlement Program
3. The State Law of Independent Contractors
Introduction
California Independent Contractor Laws
California Worksheet On Employment Status
New York Independent Contractor Laws
New York Department of Labor Guidelines for Yoga Studios
Illinois Independent Contractor Laws
Texas Independent Contractor Laws
4. The Top 10 Misconceptions About Independent Contractors
5. How To Protect Yourself From Liability For Misclassifying Your Workers
Introduction
How To Build Your Case for Independent Contractor Classification
Make Your Teachers Employees
Landlord and Tenant Model
What If I Get Audited?
What Should Teachers Do About the Independent Contractor Problem?
Worker's Compensation Insurance Compliance
State and Local Tax and Regulatory Issues
6. Federal Employment Laws
Introduction
The Fair Labor Standards Act
The Occupational Safety and Health Act
The Employee Retirement Income Security Act
The Family and Medical Leave Act
The Equal Employment Opportunity Laws
Title VII of the Civil Rights Act of 1964
Age Discrimination
Genetic Information Non-Discrimination Act of 2008
The Americans With Disabilities Act
The Equal Pay Act
The Older Workers Benefit Protection Act
The Pregnancy Discrimination Act
The Immigration and Control Act
Relationships With Interns and Volunteers
Work for Trade
7. State Employment Laws
Introduction
California Employment Laws
New York Employment Laws
Illinois Employment Laws
Texas Employment Laws
8. The Lifespan of the Employment Relationship
Introduction
Best Practices For Hiring Employees
Best Practices For Firing Employees
Social Media Posts and Employees
9. Employment Agreements
Introduction
Key Provisions In Employment Agreements
10. Tax Savings For Independent Contractors
Introduction
Tax Savings for Independent Contractors
Bartering
Work For Trade
11. How To Work With Lawyers Without Losing Your Wallet and Your Mind
When Should I Hire A Lawyer
How Do I Find A Lawyer
Use Paralegals
How To Choose A Lawyer
Twelve Strategies To Lower Your Legal Fees
Appendices
Appendix A-IRS 20 Factor Test for Independent Contractors
Appendix B-IRS Three Limb Test and Worksheet for Classifying Workers
Appendix C-Independent Contractor Worksheet
Appendix D-New York Department of Labor Yoga Guidelines
Exhibits-The Forms Library
(You can copy the legal agreements from the book, paste them into Word and revise them for your specific situation)
A-1 Model Independent Contractor Agreement
A-2 Employment Agreement-Short Form
A-3 Employment Agreement-Long Form
A-4 Lease Agreement
A-5 Mutual Release Agreement
A-6 Form of Amendment to Agreement
A-7 Non-Disclosure Agreement
A-8 Bartering Agreement
A-9 Intern Agreement
A-10 Background Check Consent and Release
To purchase the book, please click here: