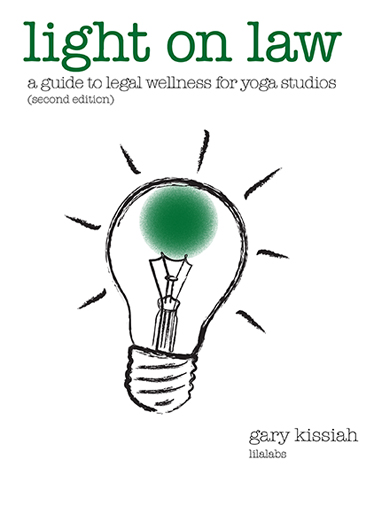 Light on Law For Yoga Studios
Light on Law for Yoga Studios is for yoga studios, entrepreneurs and other wellness businesses.
This book discusses the essential legal issues you need to know to run your business such as: independent contractors and employees, protecting yourself against liability, starting and running your business, legal entities, key legal agreements, selling products, branding, content, websites and social media, ethics and taxes. The book contains 37 essential legal forms written specifically for yoga and other wellness businesses.
The book is a beautiful, full color 340 page PDF which is readable on all computers, iPads and iPhones. You can copy the legal agreements, paste them into Word and revise them for your specific situation.
The price of the book is $29.95.
Here is the table of contents from Light on Law for Yoga Studios:
1. The Meeting of the Minds
How Do I Make My Own Legally Binding Agreement?
Do Not Use Oral Agreements
Amend Your Agreements
Read and Understand Your Agreements
The Many Types of Agreements
2. Protecting Yourself Against Liability: The Three Limbed Strategy
Introduction
The Release of Liability
Effective Insurance Coverage
Careful Teaching Strategies
Current Litigation in the Yoga World
3. Starting and Running Your Yoga Business
Getting Started
Should I Use a Legal Entity for My Business?
What Type of Legal Entity Should I Use?
How Do I Organize My LLC?
What Are The Legal Responsibilities For My LLC?
What Is A Buy-Sell Agreement?
Be Protected By Your Legal Shield!
Independent Contractors and Employees
Nuts and Bolts-Permits, Registration and Taxes
What If Someone Wants To Buy My Yoga Business?
4. Legal Agreements
Start Using Agreements!
Your Teaching Agreement
Release Me!
Membership Agreements
Workshop Agreements
Retreat Agreements
Teacher Training Program Agreements and Immersions
Coaching Agreements
Webinars, Telecourses and Online Classes
Corporate Yoga Agreements
5. Branding Your Yoga Business
What Is A Trademark?
How Do I Trademark My Brand Name?
What Is Trademark Infringement?
Why Should I Do A Trademark Search?
Create A Distinctive Trademark To Get Protection
How Do I Register A Trademark?
6. Creating and Protecting Your Content
What Is Copyright And Why Do I Care?
How Do I Protect My Teacher Training Materials?
How Much Stuff From The Internet Can I Use?
How Do I Get Copyright Protection?
Is Registration of A Copyright Required?
How Long Does A Copyright Last and What is Public Domain?
Penalties for Copyright Infringement
7. Websites and Social Media
Clear The Domain Name For Your Website
How To Conduct A Trademark Search
Establish Your Common Law Trademark Rights
Use Your Trademark To Protect Your Domain Name
Use Copyright To Protect Your Website
Make Sure Your Website Content Does Not Infringe
Can I Use Content I Have Downloaded?
Selling Products Through Your Website
Website Terms of Use
Privacy
The CAN-SPAM Act
Blogging
Current Issues in Social Media
Website Designers and Building Your Website
8. The Code of Conduct
The Code of Conduct
Establish An Ethics and Teaching Committee
Create Your Code of Conduct
The Yoga Alliance Code of Conduct
The California Yoga Teachers Association Code of Professional Standards
A Code of Conduct for the CAM Community
The Green Yoga Association
9. Independent Contractors, Taxation and Regulation
Are Teachers Independent Contractors or Employees?
Determining Independent Contractor Status Under Federal Law
What Is a Studio's Liability Under Federal Law If It Misclassifies an Employee?
Determining Independent Contractor Status Under California Law
What Is a Studio's Liability Under California Law If It Misclassifies an Employee?
What Should Studios Do Now to Protect Themselves from Liability?
What Should Yoga Teachers Do About The Independent Contractor Problem?
Workers' Compensation Insurance Compliance
Consider Making Your Teachers Employees
State And Local Tax and Regulatory Issues
Tax Savings For Independent Contractors
Bartering and Work For Trade
Do Not Practice Medicine
Be Aware of Laws Regulating Day Care Centers
Relationships With Interns and Volunteers
10. How To Work With Lawyers Without Losing Your Mind and Your Wallet
When Should I Hire A Lawyer?
How Do I Find A Lawyer?
Use Paralegals
How To Choose A Lawyer
Twelve Strategies To Lower Legal Your Fees
11. Best Practices for Teaching Students With Pre-existing Medical Conditions
Executive Summary
The Legal Perspective
The Duty of Reasonable Care
Intentionally Assuming The Higher Duty of Care
Yoga Therapy and Private Lessons
Pre-Natal and Open and Obvious Conditions
What If a Student Volunteers Information About A Condition?
Power and Hot Yoga
Place the Burden of Care on the Students
Soliciting Medical Information From Students
Touch
Confidential Treatment of Private Information
12. Appendices and The Forms Library
Appendix A- Independent Contractors Under Federal Law
Appendix B-Independent Contractors Under California Law
Appendix C-Buy-Sell Triggering Events
Appendix D-Privacy Resources
Appendix E-The Legal Forms Library
(You can copy the legal agreements from the book, paste them into Word and revise them for your specific situation)
E-1 Artist Consignment Agreement
E-2 Bartering Agreement
E-3 Blogging Policy
E-4 Business Planning and Inspiration
E-5 Cease and Desist Letter
E-6 Coaching Agreement
E-7 Consulting Agreement
E-8 Content Release
E-9 Copyright and Trademark Resources
E-10 Copyright Legends
E-11 Employment Agreement
E-12 Code of Ethics
E-13 Form of Amendment to Agreement
E-14 Independent Contractor Agreement for Service Providers
E-15 Internship and Volunteer Agreement
E-16 Form of Letter Agreement
E-17 Documents for Formation of LLC
E-18 Documents for Governance of LLC and Corporation
E-19 Membership Agreement
E-20 Mutual Release
E-21 Non-Disclosure Agreement
E-22 Privacy Policy
E-23 Private Student Input Agreement
E-24 Strategic Alliance Agreement
E-25 Student Release of Liability
E-26 Studio Rental Agreement
E-27 Independent Contractor Agreement for Teachers
E-28 Teacher Training Program Agreement
E-29 Telecourse and Webinar Agreements
E-30 Terms of Use-Not Selling Products
E-31 Terms of Use-Selling Products
E-32 Terms of Use-Short Form
E-33 Trademark License
E-34 Website Design Agreement
E-35 Workshop Agreement
E-36 Retreat Agreements
E-37 Corporate Yoga Agreement