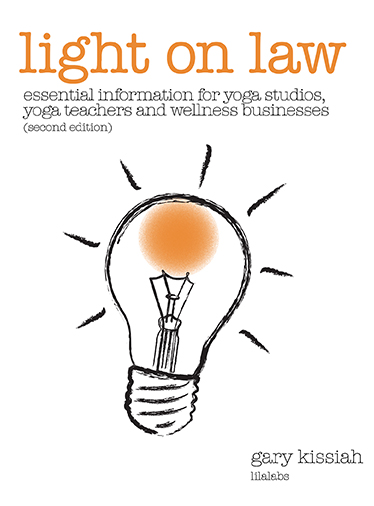 Essential Information for Yoga Studios, Yoga Teachers and Wellness Businesses provides concise information on key legal areas that all yoga teachers and studios should know. These include best practices for teaching students with pre-existing injuries and obtaining medical information about students, key agreements among studios, teachers and students, independent contractors and employees, protection against liability, legal entities, selling products through websites, trademarks, ASCAP music licensing and leases.
The book contains model forms of release of liability for both studios and teachers.
My intention is to educate our community on basic legal issues and to encourage the adoption of best practices. I hope this will help us avoid disputes, reduce risk of liability and build flourishing yoga business!
The book is 60 pages long and list price $19.99. It is being offered for $14.99 through a Yoga Alliance sponsorship.
Here is the table of contents from Essential Information:
1. Introduction
Yoga Is Now A Big Business
Increasing Legal Risks and Responsibilities
Essential Materials For Yoga Studios and Teachers
2. Best Practices for Teaching Students With Pre-existing Medical Conditions
Introduction
Executive Summary
The Legal Perspective
The Duty of Reasonable Care
Intentionally Assuming The Higher Duty of Care
Yoga Therapy and Private Lessons
Pre-Natal and Open and Obvious Conditions
What If a Student Volunteers Information About A Condition?
Power and Hot Yoga
Place the Burden of Care on the Students
Soliciting Medical Information From Students
Touch
Confidential Treatment of Private Information
3. Key Agreements
The Studio and Teacher Agreements
The Studio and Student Agreements
The Release
Yoga Teacher Training Agreements
Retreat Agreements
Do Not Use Oral Agreements
4. Independent Contractors and Employees
Introduction
What Is a Studio's Liability Under Federal Law If it Misclassifies An Employee?
What Is a Studio's Liability Under State Law If it Misclassifies An Employee?
What Should You Do Now To Protect Your Studio From Liability?
Red Flags That Weaken Your Case
Employees
5. Protection From Liability
Introduction
The Three Limbed Strategy to Prevent Liability
 The Waiver and Release of Liability
Use Careful Teaching Strategies
Advanced Classes
6. Legal Entities
Should Yoga Studios Use Legal Entities?
Should Yoga Teachers Use Legal Entities?
Types of Entities For Yoga Studios and Teachers
7. Selling Products From Websites
Get A Purchase Agreement With Indemnity!
Consider Forming An Entity
Protect Yourself From Product Liability With Your Website Terms of Use
8. Trademarks
Search Trademarks Before You Launch!
How To Clear Your Trademark
How Do I Get A Common Law Trademark For My Brand?
9. Stop The Music! ASCAP Is Hitting Yoga Studios For Music Royalties
10. Don't Sign That Lease!
Twenty Points To Consider
11. Model Waiver and Release Agreements
Model Form of Waiver and Release For Yoga Studio
Model Form of Waiver and Release For Yoga Teacher