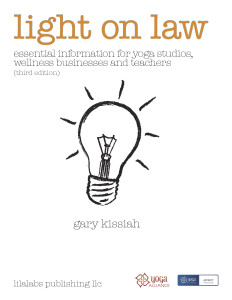 Light on Law Essential Information (Third Edition)
There are many new developments that caused me to write this third edition of the essential information for yoga studios and teachers.
The #MeToo movement has led to exposure of sexual abuse within our yoga community. To face this problem, all yoga studios and wellness businesses must adopt codes of conduct, organize ethics committees and set up procedures to allow a student who may have been abused to report the matter to the studio in confidence. The book shows you how to put this in place.
There are new privacy regulations at the state and international level. This imposes important burdens and liabilities on all yoga and wellness businesses and yoga teachers. The book discusses the GDPR adopted by the European Union and California privacy regulation which, in effect, has become national privacy regulation.
I have added a new chapter on social media and updated the discussion on independent contractors. The book also has chapters on best practices for teaching students with pre-existing conditions, key yoga agreements, protection from liability, legal entities, trademarks and leases.
It contains model forms of releases that both yoga studios and teachers should use.
I hope that this book will help your yoga business become strong and successful so that you may expand the practice of yoga and its priceless benefits to all.
The book is 140 pages long and list price $19.95.